Tube Microphone Cables 7pin XLR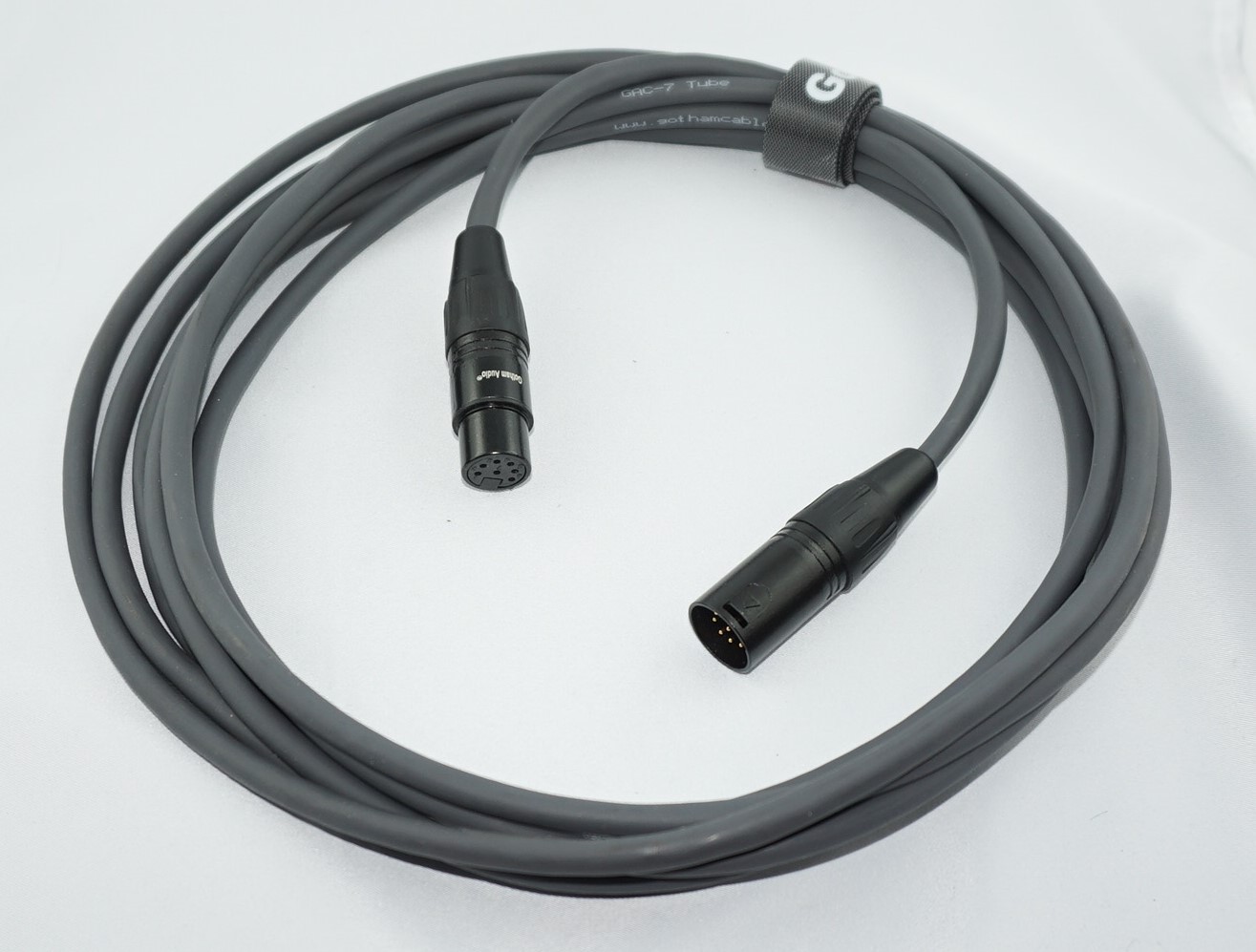 Wire
:
20101 Gotham 7 pin wire
20101 GAC-7 Tube Specially designed universal microphone cable for tube microphones 7 Conductors
Specially designed microphone cable for Tube and Stereo microphones (7 conductors!). Ultra-flexible design and best possible electrical values for an affordable price. Vintage construction. 2 conductors each 0.50mm² for power supply and 5 compact conductors 0.14mm² for balanced audiolines or control signals. Hair-thin stranding! 0.05mm copper strands! This stranding is used also in our 10701 3 conductor Neumann cable and 11001 Starquad. Perfect and unique Double Reussen Shield for perfect RF protection!
LFOC higher grade copper at best standards for best performance.
---
| | |
| --- | --- |
| | |
---
Retail Prices / Ordering Information:
Order Nr.
Cable type
color
Connector
Length
Price each

+/- 1m

CHF
EUR
CHF
EUR
KO20101GC7

03

xx
KO20101GC7

05

xx
KO20101GC7

10

xx


gray

XLR 7 Pin XLR male-female
wiring diagram to be specified

3.0m
5.0m
10.0m

116.10
126.50
180.85
102.65
111.85
155.90
5.20
5.20
5.20
4.50
4.50
4.50
You must indicate desired wiring diagram and confirm. Tube microphones are in the field with many diffrent pin configurations and you must specify desired pin configuration found most likely in the owners manual of your tube microphone! We assemble every cable individually and in our own servicelab but can not investigate correct pin layout for your microphone!
Ask your microphone manufacturer for pinconfiguration of this 7 pin XLR. There is no rule and no norm for this.
The 20101 is a standard universal cable designed for tube microphones of many kind. Out of the 7 conductors, 2 are made with larger diameter (copper) meant to serve the tube with power, and the other 5 smaller conductors are meant to work as signal and/or control lines. Possibly not all conductors are needed. Any unneeded conductor should go to ground together with our Double Reussen shield.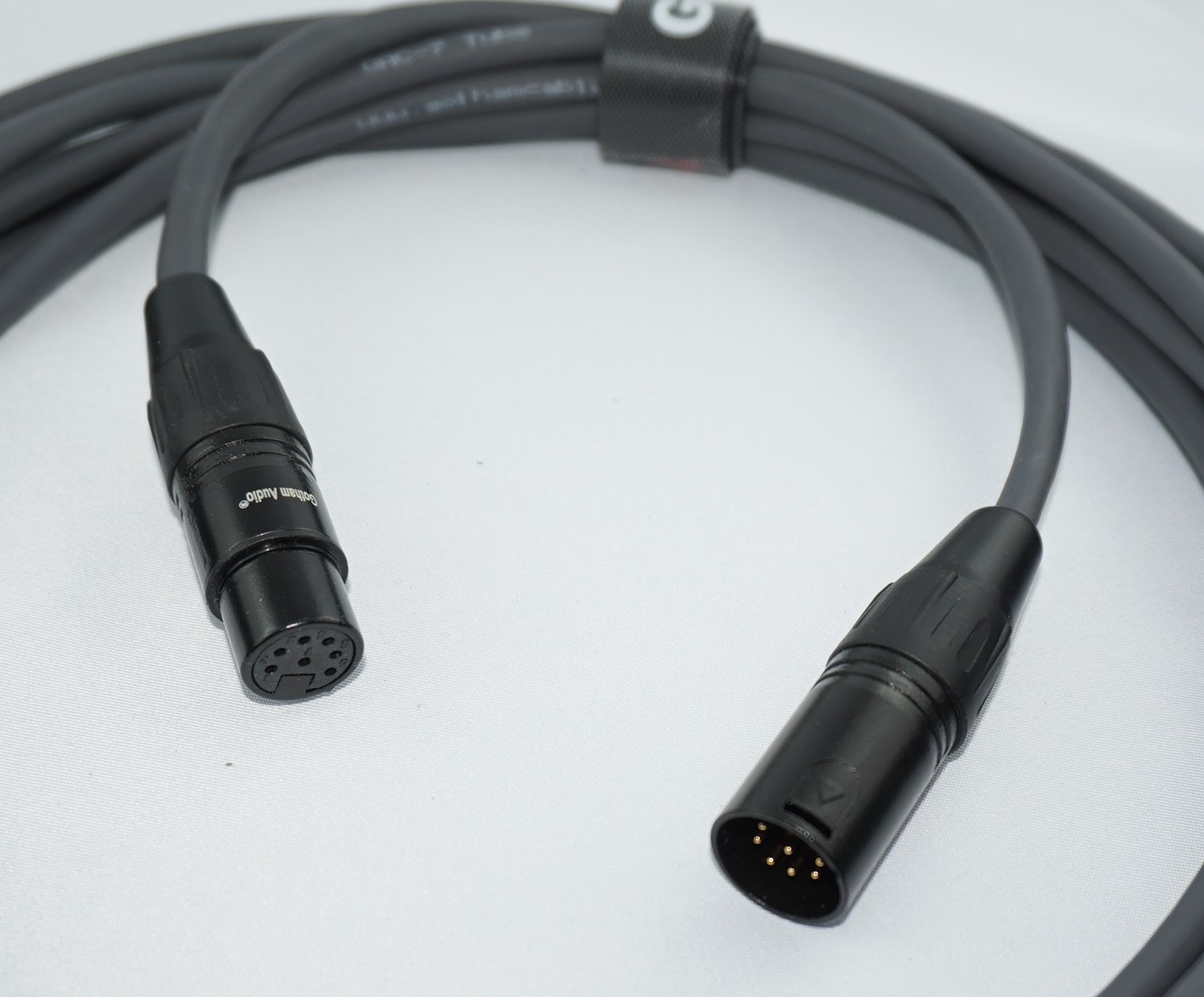 v

+/- 1m
You can adjust the desired cable length!
Prices indicated are always per piece with a 3 meter length. If you need a pair, please order 2pc. We assemble each cable manually in our own lab in Dietikon. Allow a few days delivery delay. Some stock available for immediate shipment. We can only invoice full meters but you can ask your cable per cm specified. Therefore 1.50 meter would be charged like 2.00 meter. We will confirm/quote correct price/delivery after receipt of your inquiry/order. All cables are made individually and indicated dimensions and lenght are estimated and possible tolerances of +/- 3% are possible.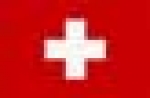 Shipped from
Switzerland:
Cable assemblies we can only ship from Swiss sales office
in Dietikon Switzerland.
---
Please inquire via contact and avoid entering all datas. You can also simply
send us an email
to
info@gotham.ch

---